Last call for anyone wanting shirts for the Alumni game $20. Included in the charge for playing in the game. Order has to be placed in the morning. Can still play in the game later just can't guarantee the shirt. Help pass the word guys. Thanks

LeFlore School is excited to announce that we have received a 3 year literacy grant. With the grant, we will be able to once again offer after school tutoring. Tutoring will be Mon-Thurs 3:40 - 4:40 and will begin immediately. Notes will be sent home with students today to sign up. More details of the grant will be posted soon.

Tuesday October 16th. We will be starting a new tradition. Meet the Savages night. All students first grade through high school that play basketball will be introduced to everyone by the coaches, then split into teams for a black and white scrimmage to start the basketball season. The last games of the night will be the Alumni games. Cost for participating in the Alumni games will be $20 which includes the cost of the T-shirt's. Games will start at 4:00 and admission will be $3 for anyone except players. If you or anyone you know is interested in playing please have them contact Coach Beck. On here or at the school. Feel free to share this and Go Savages!!

Game time changes for softball. Girls will play tomorrow at 1:00 at Whitesboro.

Beginning Monday, October 1, there will no longer be after school tutoring available. Our school is working diligently on options to continue the program in the future and we will notify parents when we are able to provide the service again.

3rd/4th Basketball Schedule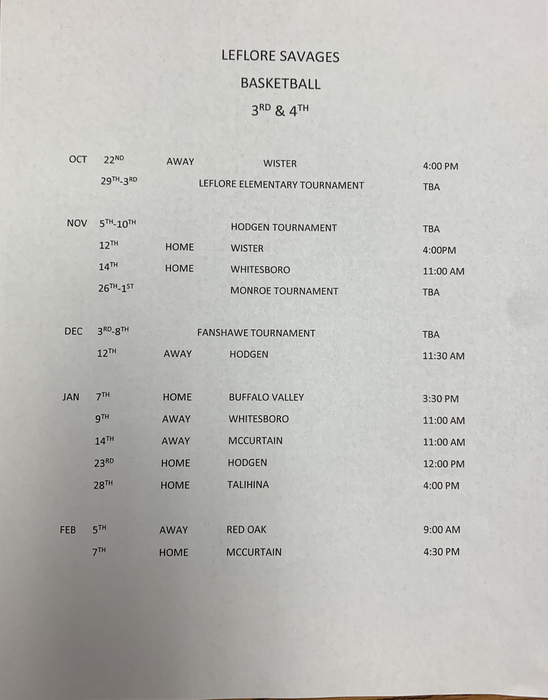 5th/6th Basketball Schedule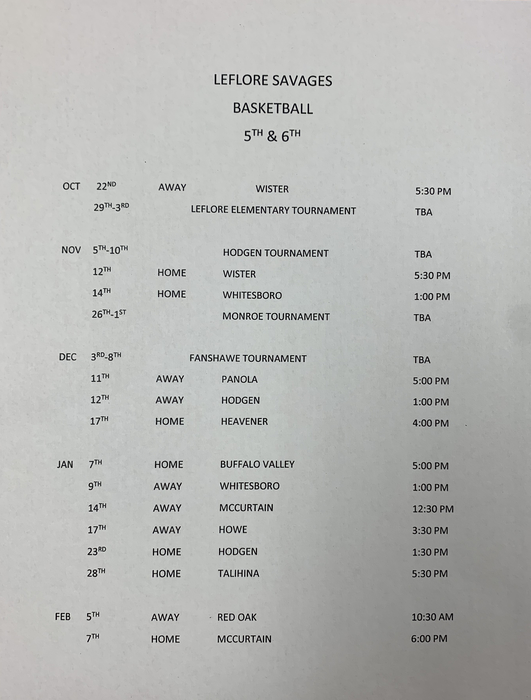 On Wednesday, September 26th, grades 7-12 will be attending the Arkansas/Oklahoma State Fair in Fort Smith. Students must have their permission slips turned in by 8am in order to attend. All students not attending the fair will be required to attend school. The bus will leave at 8:00 and will return before the end of the day.

Regional Brackets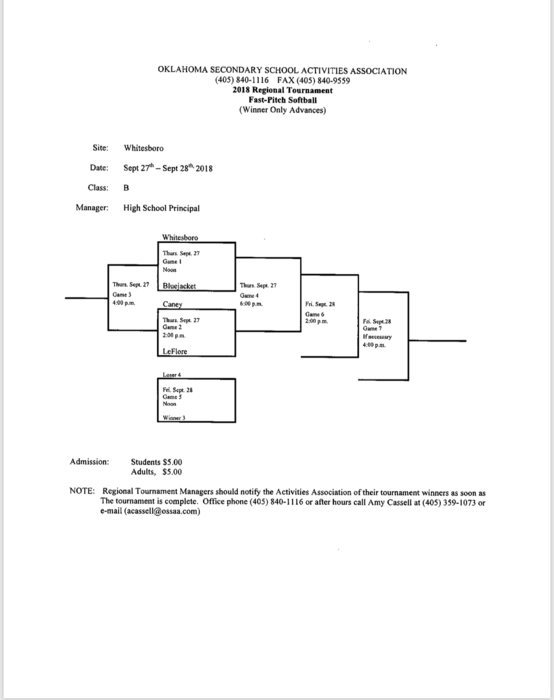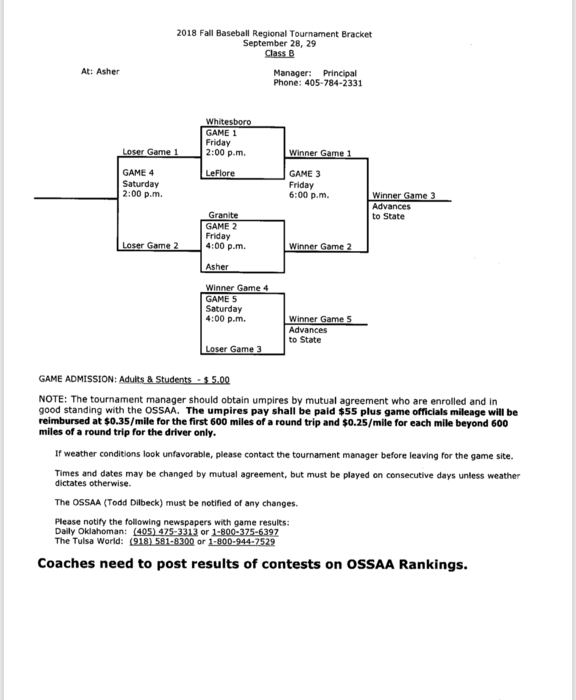 HS softball girls will play a 3-way at Webber's Falls tomorrow with Webber's and Strother starting at 4:00. Leaving at 2:00.

Savage baseball wins the District championship playing the the mess today!

JH baseball games for today and tomorrow have been cancelled.

Picture retakes and class group pictures have been moved to October 16th.

Baseball districts have been moved to Cameron today at the following times: 1:00 Cameron vs McCurtain 3:00 LeFlore plays winner of 1:00 game 5:00 If needed

District Baseball Games are cancelled for today. We will try to play them Monday

Baseball Districts are scheduled for tomorrow 9-22-18 as follows: 2:00pm Cameron vs McCurtain 4:00pm LeFlore vs winner 6:00pm If Game As of right now place is undecided

Cross country tomorrow at Holdenville is still running as scheduled so far. Leaving at 6:15

The district baseball games for today have been cancelled due to rain. Makeup time is not certain yet.

Softball is ahead of schedule. Girls will play their first game at 12:40

October Breakfast Menu